Dua For Good and Bad Dreams:
I'm going to share the dua for having good dream and dua for bad dream. Dua is an incredible power that many of us sometimes don't fully comprehend—because if we did, we would do whatever is necessary to get our dua's answered.
Moreover, Allah (swt) also says: "And when My servants ask you, [O Muhammad], concerning Me—indeed I am near. I respond to the invocation of every supplicant when he calls upon Me […]" (Qur'an 2:186)
Dua For Bad Dream:
It is good to learn the dua for bad dream (برے خواب کی دعا) or What to say if you wake up from Bad Nightmare. Below is given the dua after having bad dream in English and Arabic:
أَعُوذُ بِكَلِمَاتِ اللَّهِ التَّامَّةِ مِنْ غَضَبِهِ وَعِقَابِهِ وَشَرِّ عِبَادِهِ وَمِنْ هَمَزَاتِ الشَّيَاطِينِ وَأَنْ يَحْضُرُونَ
Translation:
I seek refuge in the Perfect Words of Allah from His wrath and punishment and from the evil of His slaves and from the prodding of the devils and from their presence.
Transliteration:
A'udhu bikalimatil ;ahit tammati min ghada-bihi wa iqabihi. wa sharri 'ibadihi, wa min hamazatish shayateeni wa an yahdurun.
Dua for Having a Good Dream:
Below is given the dua for good dream (supplication after having a good dream) in English and Arabic:
أَعُوذُ بِاللَّهِ مِنَ الشَّيْطَانِ الرَّجِيمِ وَمِنْ شَرِّ هَذِهِ الرُّؤْيَا
Translation:
I seek refuge in Allah from the accursed Satan and from the evil of this dream. "The dream will not cause any harm. (Misjkat, Hisnul Hasin)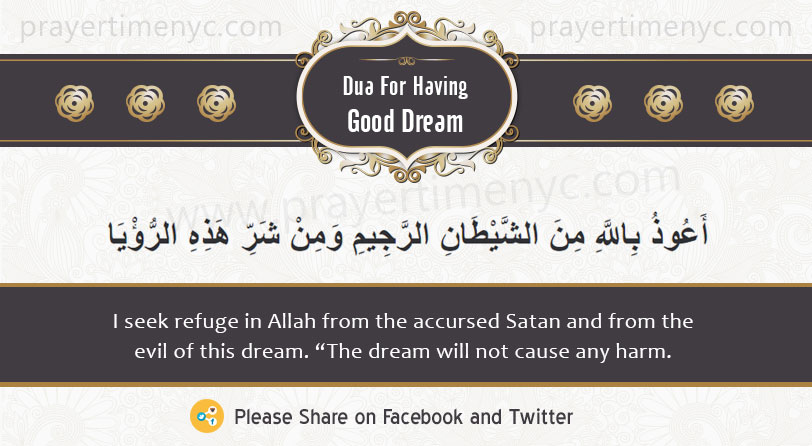 Invocation for good dreams
See Also: