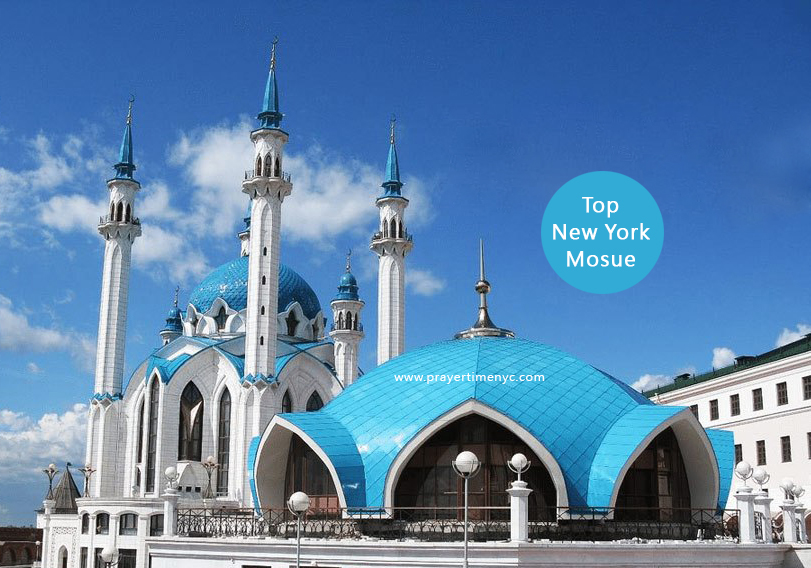 Famous New York Mosques:
In this article I am going to reveal the 10 famous New York Mosques and Islamic Centers along with their names and addresses.
A house of prayer (Mosque) is a most important area of worship for Muslims. A house of prayer serves several of similar functions as a church will for Christians around the world.
Related Post: Most Beauitful Mosques Around the World
Mosques in western countries especially the USA, New York Mosque names, and their Addresses are very important for Muslims living in there because all the mosques there arrange community activities, Islamic gatherings, and groups to foster Islamic beliefs.
Find out the Today Prayer times NYC.
Allah says:
And the Masjids are for Allah (Alone), so invoke not anyone along with Allah. (72:18)
And;
In houses (Masjid), which Allah has ordered to be raised (to be cleaned, and to be honored), in them, His Name is glorified in the mornings and in the afternoons or the evenings.  (24:36)
How Many Mosques in New York:
There are many Mosques in New York and almost in every country. In the western countries, the term Mosque is widely pronounced, however, the proper or exact name for the holy place where Muslims pray is called "Masjid".
List of Mosques in New York:
The 10 famous New York Mosque Names, and their Addresses are stated below to guide all the Muslims in New York so that they can offer their prayers and join Islamic gatherings in mosques with Muslim brothers.
10 Famous Mosques in New York:
10 famous mosques and their addresses given below:
Islamic Society of Mid-Manhattan (Mosque)
Midtown East, 154 E 55th St, New York, NY 10022.
Islamic Cultural Center of New York (Mosques)
East Harlem, 1711 3rd Ave, New York, NY 10029
Islamic Center At New York University (Mosques)
Greenwich Village, 238 Thompson St, New York, NY 10012.
Masjid Manhattan (Mosques)
Financial District, 30 Cliff St, New York, NY 10038
Masjid Al-Hikmah (Mosques)
Astoria, 48-01 31st Ave, Astoria, NY 11103
Ahlul Bayt Mosque (Mosques, Adult Education)
Boerum Hill, 543 Atlantic Ave, Brooklyn, NY 11217
Masjid At-Taqwa (Mosques)
Bedford Stuyvesant, 1184 Fulton St, Brooklyn, NY 11216
MECCA Center (Religious Schools, Mosques)
Midtown West, 4 W 43rd St, New York, NY 10036
Masjid Hazrat Abu Bakr Siddique (Mosques)
Downtown Flushing, Flushing, 141-47 33rd Ave, Flushing, NY 11354
Islamic Council of America (Mosques)
East Village, 401 E 11th St, New York, NY 10009
Conclusion:
I have, therefore, added many Islamic organizations (mosque), which guides the authentic teachings of Islam. There is much more information about the New York Mosque Names, and their Addresses, but I have mentioned the top 10 famous Mosque and Islamic Centers with Names, and their Addresses for New York above to guide you with the best.