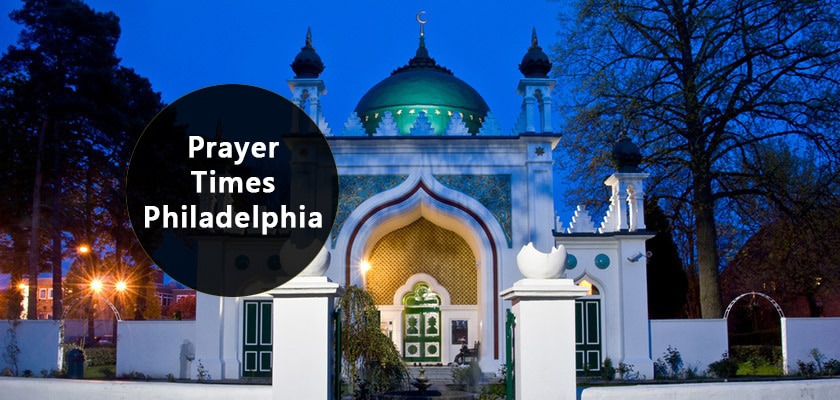 In this article, I will inform you about Prayer times for Philadelphia (Pennsylvania, USA) or Philadelphia Prayer Times,  Mosques and population in Philadelphia (PA, USA).
Allah Almighty says in Holy Quran: "Recite what is sent of the Book by inspiration to thee, and establish Regular Prayer: for Prayer restrains from shameful and unjust deeds; and remembrance of Allah is the greatest (thing in life) without the doubt. And Allah knows the (deeds) that ye do." (Quran, 29:45)
Prayer Times in Philadelphia, PA:
Calculation Method:
Standard (Hanbali, Maliki, Shafi)
Islamic Society of North America
Fajr 15.0 degrees, Isha 15.0 degrees
Latitude: 39.9494
Longitude: -75.1457
Philadelphia Prayer Times (PA, USA):
There are five prayers (پانچ نمازیں) that are compulsory for every Muslim. They are preferably offered before they are Qaza, therefore the exact time is required to perform prayers. These are the prayers:
Fajr prayer times for Philadelphia
Dhuhr prayer times for Philadelphia
Asar prayer times for Philadelphia
Maghrib prayer times Philadelphia
Isha prayer times Philadelphia
Mosques in Philadelphia:
As many Muslims prefer to offer their prayers in Mosques in order to get 27 times more Sawaab (ajr). They search for a mosque to perform their Islamic Rituals. It is important to note that in months like Ramadan, Muslims try to be more religious so that is why I am enclosing a list of Mosques that will help you to increase your deeds:
Al-Aqsa Islamic Academy
Muhammad's Temple of Islam
Delaware Valley Islamic Center
Selimiye Mosque
North Penn Mosque
Muslim Population in Philadelphia:
Many religions are practiced in Philadelphia like Roman Catholics, Jews and Protestants. Now Muslims are also growing there and becoming a society of their own. There are about 200,000 Muslims living there and surveys show that they are rapidly growing.
In the end, We assume that you found the information regarding Muslim Prayer Times Philadelphia (Pennsylvania, USA).
See Also: