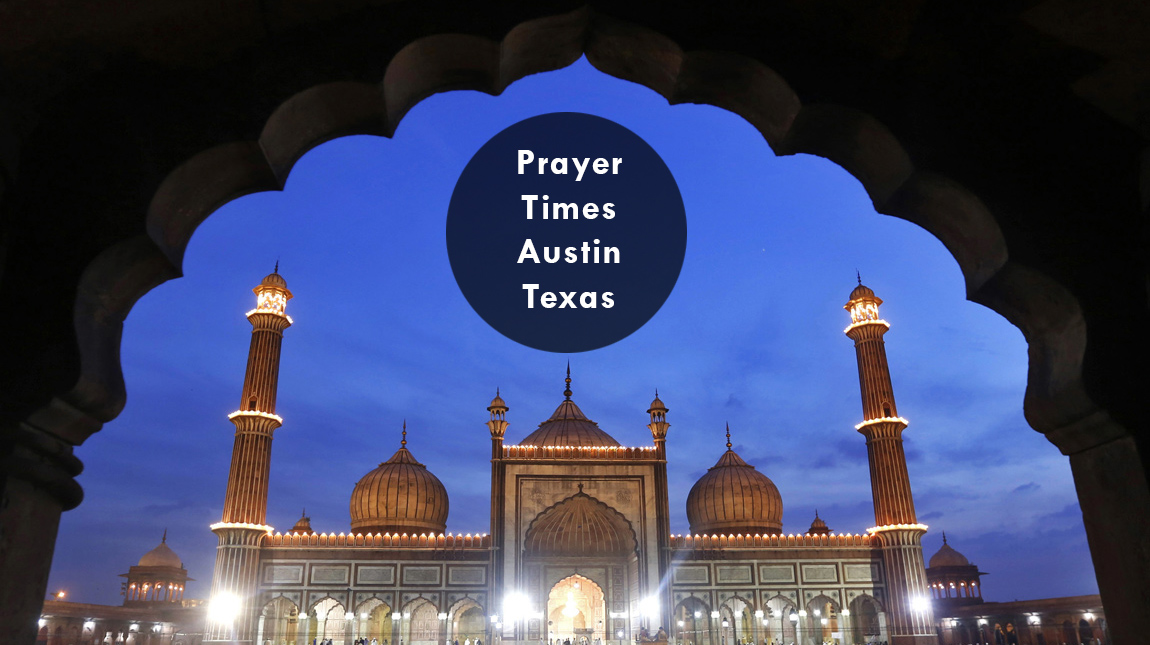 Austin Prayer Times (Texas, USA):
In this article, I will inform you about Austin Prayer times or Islamic prayer times for Austin (Texas, USA)  along with Mosques and Muslim Population in Austin, TX, USA.
Additionally, Austin (TX) is the state capital of Texas, an inland city bordering the Hill Country region.
Prayer Times in Austin, TX:
Calculation Method:
Standard (Hanbali, Maliki, Shafi)
Islamic Society of North America
Fajr 15.0  degrees, Isha15.0 degrees
Latitude: 30.1678
Longitude: -97.8225
Salah is the second most important aspect of Islam. Salah are mandatory for every Muslim to perform prayer in particular time.
Importance of prayer in Islam can be seen from this hadith;
Abu Huraira reported that the messenger of Allah said:"The nearest a servant comes to his Lord is when he is prostrating himself, so make supplication (in this state)." (Sahih Bukhari)
Austin Prayer Times, TX:
There are five prayers (نمازیں) that are compulsory for every Muslim. They are preferably offered before they are Qaza, therefore the exact time is required. These are the prayers:
Fajr prayer times in Austin
Dhuhr prayer times in Austin
Asar Austin prayer times
Maghrib Austin prayer times
Isha prayer times in Austin
All the timings are identified by sunrise and sunset. The Fajr prayer is offered before the sun rises and will be Qaza at soon as the sun rises.
Mosque Austin, Texas:
North Austin Muslim Community Center
Islamic Ahlul Bayt Association
Masjid Ibrahim Mosques
Islamic Center of Greater Austin Mosques
Muslim Population in Austin , Texas:
Many religions are practiced in Austin Texas like Roman Catholics, Jews and Protestants. Now Muslims are also growing there and becoming a society of their own.
According to sources population of Muslim in Austin is 1.74% Ratio from all population of Austin Texas.
To conclude, I hope you found the accurate information regarding Austin prayer times in Texas, USA.