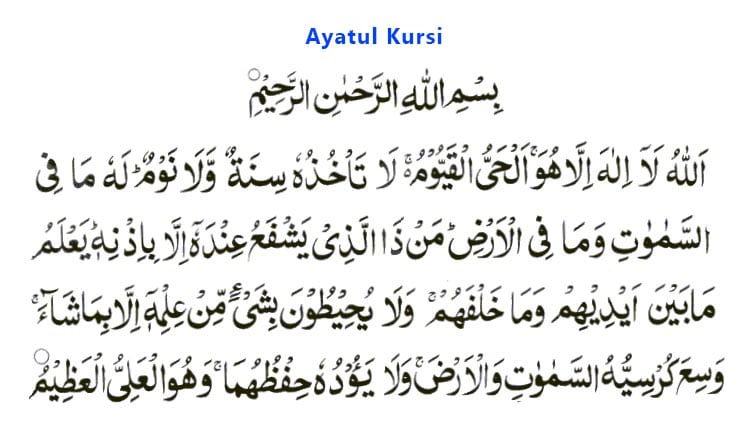 Ayat-ul-kursi:
Recite Ayatul Kursi in Arabic after every prayer. Ayatul Kursi is the Verse of Surah Baqarah. The largest Surah of Holy Quran is Surah Baqarah. The verse number 255 of this Surah is Ayatul Kursi.
In this verse, Allah has defined his powers and glory. There is no one but only Allah who is the creator of everything we see in this world.
Recite Ayatul Kursi Arabic:
بِسۡمِ ٱللهِ ٱلرَّحۡمَـٰنِ ٱلرَّحِيمِ
اللَّهُ لاَ إِلَهَ إِلاَّ هُوَ الْحَيُّ الْقَيُّومُ لاَ تَأْخُذُهُ سِنَةٌ وَلاَ نَوْمٌ لَهُ مَا فِي السَّمَاوَاتِ وَمَا فِي الأَرْضِ مَنْ ذَا الَّذِي يَشْفَعُ عِنْدَهُ إِلاَّ بِإِذْنِهِ يَعْلَمُ مَا بَيْنَ أَيْدِيهِمْ وَمَا خَلْفَهُمْ وَلاَ يُحِيطُونَ بِشَيْءٍ مِنْ عِلْمِهِ إِلاَّ بِمَا شَاءَ وَسِعَ كُرْسِيُّهُ السَّمَاوَاتِ وَالأَرْضَ وَلاَ يَئُودُهُ حِفْظُهُمَا وَهُوَ الْعَلِيُّ الْعَظِيمُ
Hadees on Ayatul Kursi Power:
Abu Hurairah (radiAllahu anhu) narrated: In Surah al-Baqaraah there is an ayah which is the best of all the ayahs of the Qur'an. It is never recited in a house but the Shaytan leaves: Ayat-al-Kursi.
Everything has its pinnacle and the pinnacle of the Qur'an is Surah al-Baqarah. In it there is an ayah which is the greatest in the Qur'an: Ayat-ul-Kursi. [at-Tirmidhi]
Read Also: